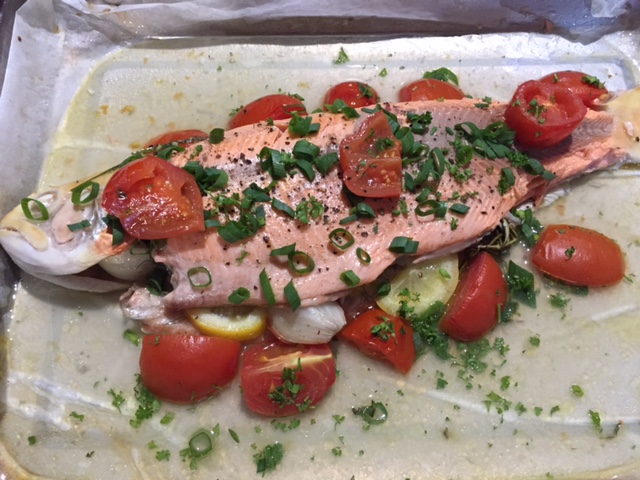 This is my version of the whole fish baked with potato, tomatoes and olives we ate at the restaurant on my first trip to the seaside. Australians are lucky to have such wonderful seafood and farmed fish. We often bake salmon for a party or Christmas, giving it a very Italian lift by serving it whole with a balsamic dressing. Sometimes I also smoke it lightly in the barbecue to give it an Australian edge. Baked whole fish is so versatile – it can be scooped out as an antipasto for a large group or served as an entrée or main course, with the accompaniment adjusted according to the season, from asparagus to potatoes to tomatoes. I like to use different types of pepper to season this dish – sometimes pink peppercorns, lemon pepper or even freshly ground Sichuan pepper."
OUR PRODUCERS: Mountain Fresh Trout & Salmon Farm, Ross Tomatoes, Mt. Buffalo Olives and Alpine Valley Vignerons
Ingredients:
1 × 1.2 kg (or larger) Trout, Tasmanian salmon, ocean trout or Murray cod, cleaned and scaled
2 small lemons, juiced and cut into quarters
½ cup (125 ml) extra-virgin olive oil
salt and freshly ground black pepper
few wild fennel fronds
2 small onions, cut in half
300 ml dry white wine
200 ml fish stock
200 g cherry tomatoes, cut in half
Balsamic dressing
1 cup (250 ml) extra-virgin olive oil
1/4 cup (125 ml) good-quality balsamic vinegar
1 small red onion, very finely diced
1 teaspoon sea salt
2 handfuls freshly chopped flat-leaf parsley
METHOD:
Preheat the oven to 200˚C.
Check the fish is free from scales, then wash it inside and out and pat dry with paper towel. Slash the thickest part on both sides several times with a sharp knife to assist the fish cook evenly. Mix the lemon juice and oil, then season with salt and pepper and rub into the fish, working it into the cuts and the cavity. Fill the cavity with the lemons, fennel and onion.
Take a roasting tin large enough to take the fish flat but snugly and line it with baking paper, then add the fish. Pour the wine and stock into the tin (but not over the fish), then bake for 40 minutes–1 hour, depending how you prefer your fish. The fish is cooked when the flesh can be easily flaked from the bones.
Meanwhile, make the dressing but don't add the parsley. Transfer the fish to an oval serving platter. Peel the skin back and roll it towards the spine. Spoon some of the cooking juices over the fish – there won't be a great deal left. Stir the parsley through the dressing, then pour this over the fish. Scatter over the tomatoes, then cover the platter tightly with foil and set aside for up to 30 minutes – if you want to eat the fish hot, you can eat it after 10 minutes, but it is also delicious at room temperature when the dressing has mingled with the juices.