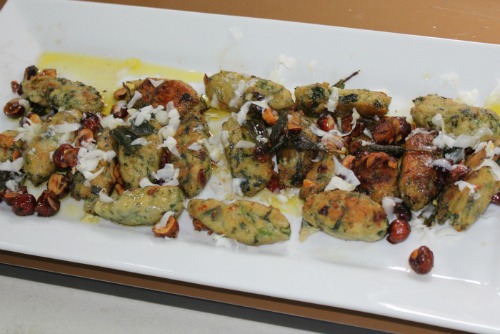 Ingredients:
100g toasted hazelnuts roughly chopped
3 leaves of sage
Grated fresh one lemon rind and lemon juice
500g Chestnut flour
2 cooked potatoes with the skin put through a sieve when warm
400g cooked spinach or silver beet
100g Grated cheese
4 x 55 eggs
Oil infused with garlic
100ml of olive oil (& little butter)
OUR PRODUCERS: Alpine Nuts, Cheznuts, Huon Farm Free Range Eggs, Nightingale Bros, Mannies, Mt. Buffalo Olives, Sapunars, Valley Nut Groves, Wandiful Produce.
METHOD:
To make the gnocchi, warm a little garlic oil in a large saucepan over medium heat and heat and wilt the spinach, then season with salt and pepper, set aside until cool enough to handle.
Squeeze the spinach to remove excess mixture then finely chop them.
Line a tray with baking paper and dust with semolina.
Put in a bowl chopped spinach the chestnut flour, the potatoes, the eggs, work well to combined.
Roll the mixture into 2 cm diameter gnocchi or make quenelles then put into the prepare tray.
Bring a large saucepan with salted water to boil, boil the gnocchi for 6 minutes, scoop them out and let cool and firm up.
Meanwhile melt some butter and oil in a large frypan over medium heat, toss the hazelnut and gnocchi in to gently warm them up and then the sage leaves, cook for a while until the butter start to colour sage crisps and gnocchi warm, then add the lemon zest and lemon juice reduce the heat to low.
Serve the gnocchi in a plate with little juice, drizzle with walnut oil and plenty of the chosen cheese.